---
UNISM is a label that is constantly inspired by cultures and subcultures for the art we create and the products we make. With the brand ethos of quality craftsmanship meeting the highest standards of wearability.

With an extensive and varied product line consisting of everyday staple pieces, flowing between utilitarian, streetwear and punk culture. Product line includes classics like tops, jackets, blazers, jeans and pants that feature provocative silhouettes, bold colours and pulses of energy that is powerfully raw. Garments portray slogans and graphics and at the same time contain a design element such as patchwork and graffiti, made to be customizable and DIY-able so that they stay timeless. Shifting from working class to street punk, pieces are by no means identity-limiting.

A brand that is more than just clothes, providing the opportunity for both self-expression and the expression of common values. Fashion choices with UNISM simultaneously express individuality and symbolise community by embodying our personalities and shared values.

Below follows the brand's Loobook and Catalogue, created to accompany the launch of the brand.
---
This Lookbook features products from UNISM's launching collection. Looks are styled and designed to meet the brand's identity while injecting a fraction of attitude from the selected representatives.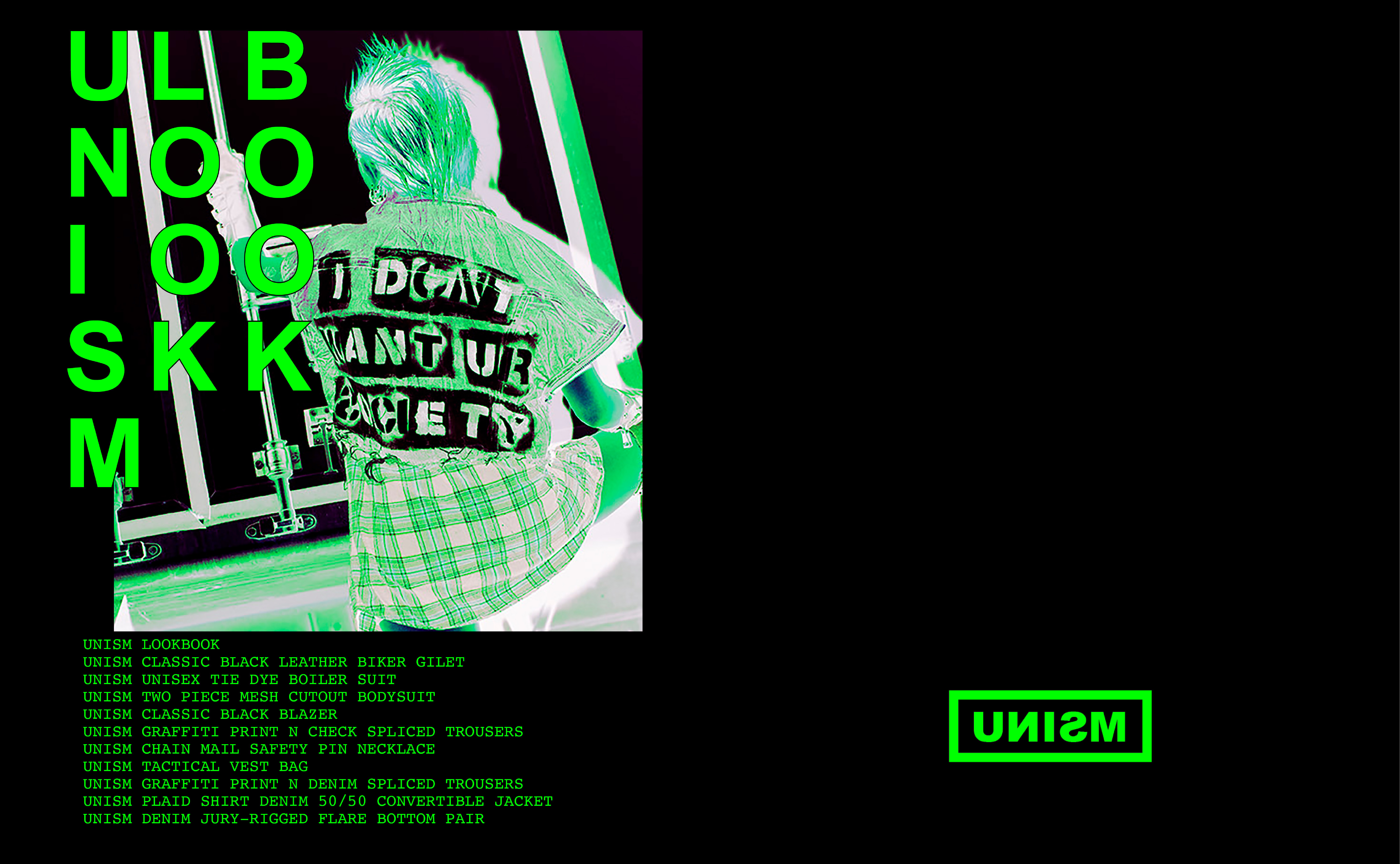 creative direction DANESSA TONG
photography + edit DANESSA TONG
design + layout DANESSA TONG
garments DANESSA TONG
hair + makeup IRIS OH
models JOSH
FARAH
BRIDGITT
assisted by JUSTINN LIM
JAINA KOO
LIM XIRUI

---
The Catalogue presents shots of the garments on the body. Inspired by mugshot profiles it is designed to show the pieces in various angles. This manual features the product information, composition, price and sizes.
creative direction DANESSA TONG
photography + edit DANESSA TONG
design + layout DANESSA TONG
garments DANESSA TONG
hair + makeup IRIS OH
featuring JOSH
FARAH
BRIDGITT
assisted by JUSTINN LIM
JAINA KOO
LIM XIRUI